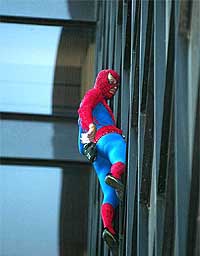 France's
Alain Robert
, renowned for climbing the world's tallest buildings, wasn't going to let 15 days in a Chinese jail deter him from an attempt at scaling China's tallest building.
Clad in a Spider-Man costume, the 44-year-old made a barehanded ascent and descent of the 88-storey
Jin Mao Tower
, achieving the feat in 90 minutes.
His feet had barely touched the ground when he was arrested by police.
Robert had decided to mount the iron-and-glass structure without permission after authorities turned down two requests.
"If you obey all the rules, you miss the fun," Robert said ahead of his ascent of the 420.5-metre (1,380 foot) tower.
"I've scaled the three tallest buildings in the world, so I reckoned I should also climb the fourth-tallest building. It's like there's something missing."
Robert had consulted lawyers and French diplomats before the attempt and said he expected to face 15 days in custody and a fine of up to 10,000 yuan ($1,300).

In 2001, Chinese shoe salesman Han Qizhi became the first person to scale the Jin Mao Tower. Han, who had happened to walk by the building and acted on a "rash impulse", was detained for about two weeks.

Catch the video on Youtube now


Source

: theage
Technorati Tags: alain robert Jin Mao Building china spiderman